Show off your radiant smile, not unsightly metal brackets or wires.
Created in 1999 by Align Technology, Invisalign seeks to renew your confidence in your smile. Invisalign makes this possible with the help of smooth, safe, and comfortable plastic aligners.
How Does Invisalign Work?
These aligners use gentle pressure to move teeth into the right place. Aligners are custom-made for you to replace every two weeks. The process continues until you have achieved the results you want.
Who Can Use Invisalign?
They are suitable for both teens and adults. Its removable feature gives patients freedom and flexibility. Unlike other teeth straightening options, you will not have to stay away from hard food. You can also floss and brush as you normally would.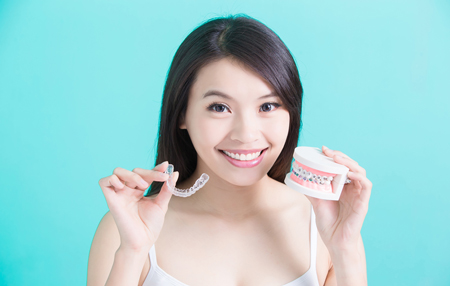 What are the Benefits?
You won't feel shy to smile even with your Invisalign braces on. These aligners are almost invisible. They allow you to enhance the appearance of your smile with minimum discomfort and for a shorter period.
These aligners are virtually invisible braces, gets the job done without interrupting your daily life. If you wish to learn more about this treatment, visit our clinic to see if this dental solution is right for you!
Give us a call at (587) 317-9903 to learn more about Invisalign.
Request Your Free Consultation!
This website uses cookies.