Gum Recession: Causes, Prevention & Treatment

What Is Gum Recession?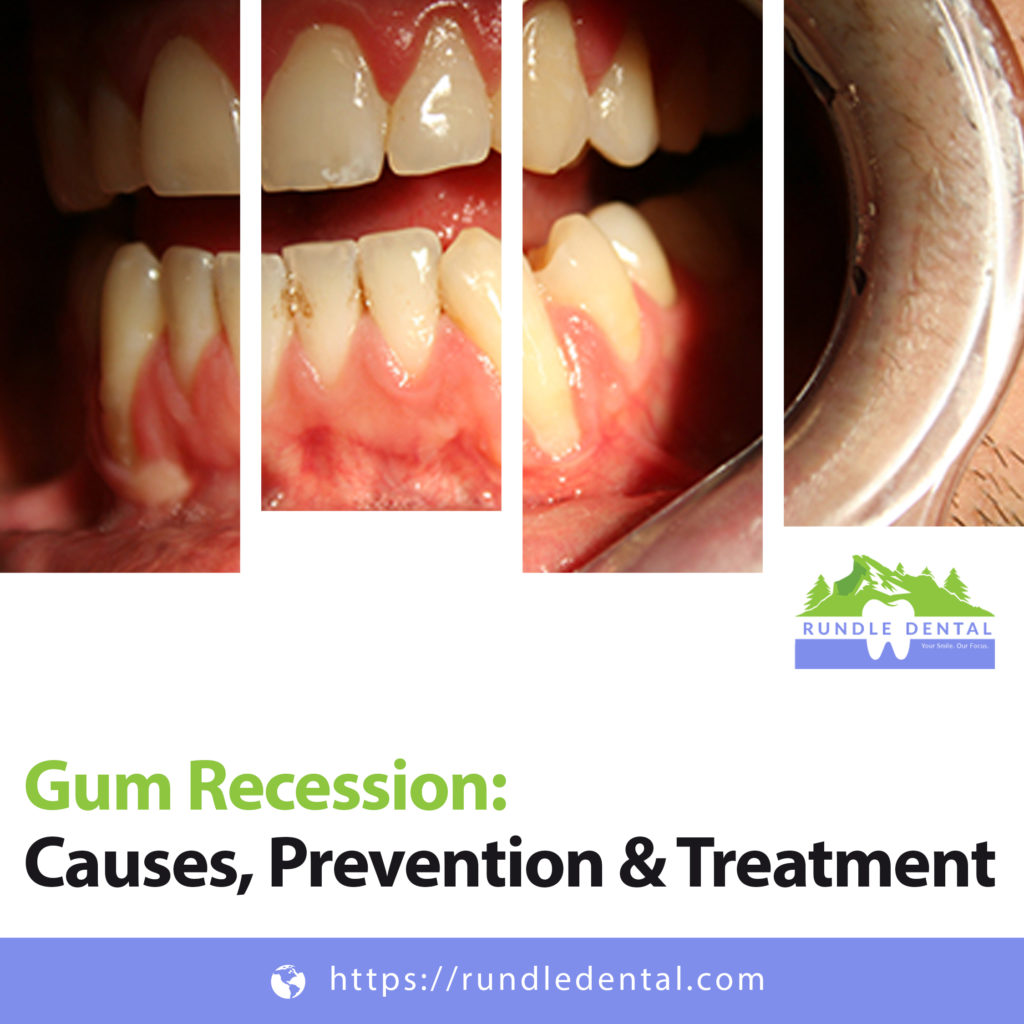 Gums are made up of muscle tissues that provide seals around the teeth. They provide an effective barrier that protects the roots of the teeth. Gum recession exposes the roots of the teeth which consist of a soft tissue called cementum. Unfortunately, this tissue is easily worn away and does not replenish itself. If the cementum or root of the tooth is exposed, cavities can form and teeth can become more sensitive. This exposure also puts the mouth and teeth at risk of other infections and oral diseases.
What Causes Gum Recession?
Gum recession can be caused by a number of things. It can be as simple as brushing too hard or using a toothbrush that does not have soft enough bristles, but often it is a combination of things such as these:
Poor Bite: Malocclusion or "a poor bite" is when the teeth do not align and meet properly when the mouth is closed. This poor alignment allows teeth to hit one another causing trauma to the teeth, jaw joint, gums and other mouth tissues. Repeated trauma like this will eventually cause the gums to recede.
Grinding & Clenching Teeth: Grinding and clenching your teeth is another way that trauma occurs in the mouth. Clenching puts excess pressure on the teeth and jaw force the gums away from the natural gum line, causing them to recede. This trauma is exacerbated when clenching and grinding are done together.
Bacteria: Bacteria in the mouth can cause infections, cavities, gingivitis and periodontal diseases – all of which can cause the gums to recede. The plaque that is left behind on our teeth and below the gum line can cause tooth decay and inflammation of the tissues inside the mouth.
Tissue Irregularities: Inside the mouth there is a small band of tissue that connects the gum tissues to the lip and cheek tissues. This band is called a frenum. When these tissues are tight or lying lower than normal inside the mouth, it puts additional stress on the gums. Any additional pressure on the gums will cause the gums to recede.
Treatment & Prevention:
A visit to our NE Calgary dental office will help give you a personalized plan to help prevent gum recession and/or treat any roots that are already exposed. A few of the treatment options and ways to prevent further damage are:
Flossing: Flossing regularly can help remove excess plaque from beneath the gum line preventing bacterial infection, gingivitis and periodontal diseases.
Proper Brushing: Ensure you are using a soft-bristled toothbrush and are not brushing too hard. If the bristles of your toothbrush are too hard or you are applying too much pressure, this can cause infections and eventual gum recession.
Book your free consultation today.
This website uses cookies.